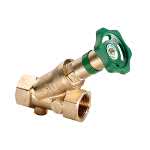 High quality and durable commercial valves
Commercial valves are high-quality special valves,  that are directly attached to or integrated into water pipes. In combination with a pressure reducer, these valves support the drinking water supply. 
They guarantee the optimum supply pressure and ensure low water consumption. Many models are equipped with an additional outlet pressure indicator. In the following you will learn more about the design, characteristics and application areas of modern commercial valves. 
Material and structure of commercial valves.
Modern commercial valves  enable water to be tapped off or transferred directly from the water pipe. These valves convince with a high quality of material and workmanship. They are robust, durable, easy to clean and low maintenance. The entire structure is waterproof and protected against corrosion. Depending on the model, the commercial valves are designed for different outlet pressures from two bar up to a maximum operating pressure of 16 bar. 
The field of application of commercial valves.
Modern commercial valves with integrated pressure reducer are mainly used in the field of drinking water supply. They are standardised according to DIN 1988 or DIN EN 1567. The special fittings reduce excessive supply pressure and also reduce water consumption. The outlet pressure is factory set at four bar, but can be flexibly set between 1.5 and six bar during operation. The commercial valves available here in the shop ,can easily withstand a maximum operating pressure of 16 bar. 
The average operating temperature should be below 30 degrees. All available commercial valves  can be used with different operating media. In addition to water, compressed air as well as neutral and non-adhesive liquids or chemicals can be considered. The high-quality brass body of the fittings is dimensionally stable and protected against corrosion. 
The advantages of modern stacking fittings
The commercial valves  offered by Hermann Schmidt offer a maximum of comfort and safety. 
They are easy to install and operate. The proven manufacturing processes are tested and certified. 
Only corrosion-resistant and durable materials are used. There are models with harmless alloys in stock which comply with the Drinking Water Ordinance and can also be used in the food industry. 
In addition, the stacking valves convince with excellent control accuracy. The commercial valves are available in various designs and sizes, so that an ideal solution can be found for every application. 
Discover the extensive range of stacking fittings of our brand. For drinking water supply and pipeline technology, rely on modern stackable valves from leading brand manufacturers. Here are the advantages of the commercial valves at a glance: 
h

igh-quality, dimensionally stable and corrosion-protected materials

 

reliable pressure reduction

 

excellent control accuracy

 

o

perating pressure up to maximum 16 bar

 

various applications in drinking water supply and pipeline technology